TERMITE INSPECTION GOLD COAST
GOLD COAST PEST CONTROL SPECIALISTS
FREE CONSULTATION!
We'd like to take just a teensy bit of your time to let you in on a secret .. with around 300 pest control companies around the coast, WHY ARE SO many bodies corporate switching to OPTIMUM PEST CONTROL? It's pretty simple really take a peek!

TERMITES continue to cause thousands of dollars in damage around the coast, and after all this heavy rain, termites will be coming up out of the ground to eat all that damp timber - many termite barriers will be washed away. We've found TERMITE SYSTEMS in total disrepair, and RATS are taking over common property in many places around the coast - this does NOT need to happen!
If your current pest manager is just going through the motions, and sending in an invoice yes, we hear it every day please consider a change!
Firstly, you can TRUST us! Short and sweet. You can totally trust us!
We are PROFESSIONAL, EXPERIENCED & DILIGENT in everything we do
STRATA DEVELOPMENTS ARE A SIGNIFICANT PART OF OUR BUSINESS
We help YOU look good with our expertise, our professional, friendly approach
We are TOTALLY PASSIONATE ABOUT SERVICE AND QUALITY, with
EXCELLENT RESULTS and GENUINE service warranties
Experienced, qualified technicians & inspectors who are focused and diligent
FULLY LICENSED AND INSURED - we tick ALL the right boxes and
PROTECT YOUR CLIENTS by providing CORRECT Health Dept. paperwork
Trusted in our industry for experienced, honest & practical advice
OUR BUSINESS IS BUILT ON REFERRALS AND RECOMMENDATIONS
OH, and I forgot to mention WE ARE ALL JANSEN'S! Handpicked!
3 trucks on the road we're all over the Gold Coast and Tweed
TERMITES SPECIALISTS - EXTERRA BAITING SYSTEMS
We are an EXTERRA QUALITY PREFERRED OPERATOR
TERMITE INSPECTIONS Common Property, Lots/Dwellings
BAITING PROGRAMMES FOR RATS AND MICE
Up-to-date specialized equipment, including infa-red technology
We've found that many committees, managers and owners often don't really understand what termite protection is in place, or whether they're getting QUALITY inspections and treatments. Please don't hesitate to refer us to your committees and managers for a free no-obligation assessment of their individual situation.
CALL OPTIMUM PEST CONTROL today and speak to Karen DIRECT - Phone: (07) 5520 7171 or 0415 068 171 AND BOOK YOUR FREE NO-OBLIGATION CONSULTATION AND ASSESSMENT TODAY!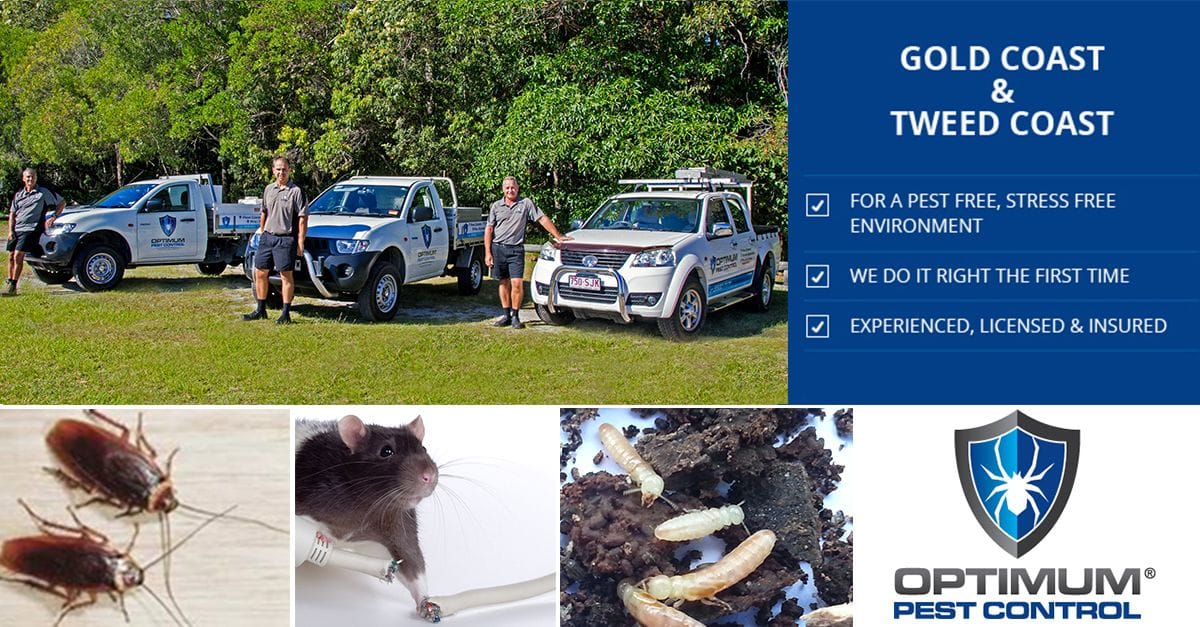 ---
OUR 12-MONTH WARRANTY:
It's a GREAT service warranty - and WE DO come back FREE OF CHARGE to fix any of these warranty issues, over the WHOLE YEAR:
Inside cockroach and silverfish INFESTATIONS
Webbing spiders on the outside of your dwelling
Ants nesting in the wall cavities, or lots of ants persistently trailing back inside
---
WE always make sure our customers are totally happy with our pest control services, and the results we get. We get AWESOME feedback and testimonials from our customers too.
MOST of our work comes from referrals and repeat work - we know what we're doing! Lots of our customers have been with us for over 10 years now. Give us a call and let us help!
A recent testimonial:
"Just a quick note to let you all know how happy Richard and I are that we had your services recommended to us by our community manager and that your quote was successful. The knowledge, experience, and professionalism in the quote presented to the Body Corporate Committee made accepting it an easy choice.
Richard and I recommend Karen and Mike Jansen of Optimum and all the team to all my friends and family and business contacts as they are professional, courteous and knowledgeable. We look forward to a long and lasting relationship with Optimum and will continue to use and recommend their special skills in Termite & Pest Control.

Several residents have also commented on the excellent manner in which you and your team carried out the recent Termite Inspections and Pest Control of the Townhouses at our complexes.

In closing I would really just like to take this opportunity to say thank you very much for ensuring the whole process of inspection and pest control went so smoothly.

Susan and Richard Fitzgerald Resident Managers EASTVIEW on Robina Woods & NORTHPOINT Links"

---
---
*Optimum Pest service areas: (click to find out more about the suburbs we service)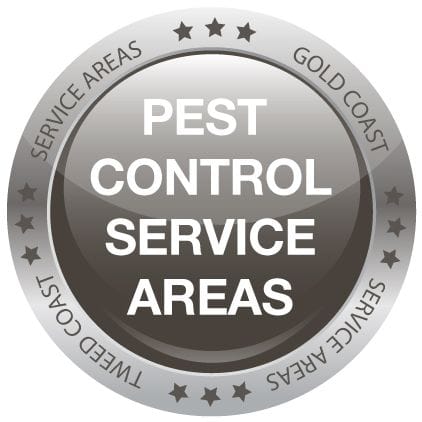 ---
Connect with us: